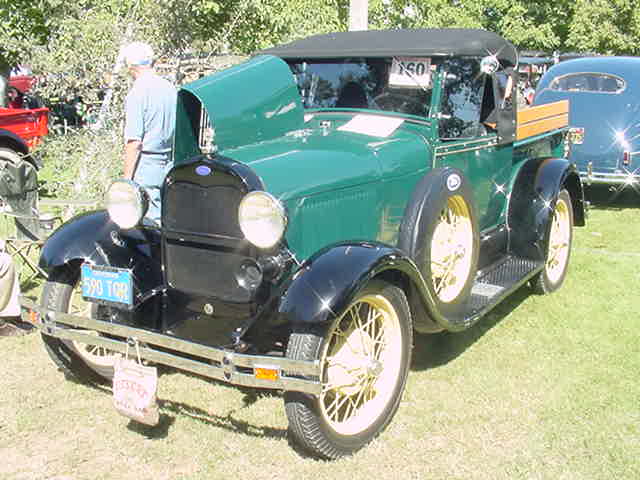 We now offer a GREAT auto insurance program to insure these special antiques & classic show vehicles.
Our Antique & Classic Auto Policy insures vehicles 19 years of age and older, including:


Muscle Cars

Convertibles

Coupes

Retractables

Station Wagons

Vintage Motorcycles

Woodies

Corvettes

Sedans

Steam Automobiles

Horseless Carriages

Light Trucks

Farm Tractors

Antique Delivery Trucks

Military Vehicles




Owners of these vehicles put time, effort and usually a lot of money into their cars. It's not just a standard vehicle and that's why specialty insurance is so important. The Collectible Auto product is categorized into two programs: the Antique and Classic program and the Modified program. Although both types of vehicles are considered collectibles, they are very different by definition. Antique and Classic cars are considered collectibles because of their age and preservation. Modified cars are considered collectibles because of the modifications that were made to the car, altering it from its original condition.

What is an antique and classic auto?
An antique auto is a vehicle that is 25 years and older. A classic car is considered a vehicle 19 to 24 years old. Both the antique and classic vehicles must be in the original (or original restored) condition. An antique Model T or a classic Mustang convertible might come to mind when you think of cars that fit into this program, but the Antique and Classic Auto Program doesn't only include the obvious. This program is also great for light trucks, motorcycles, farm tractors, military vehicles, foreign and American sport cars, muscle cars, convertibles, station wagons, woodies, Corvettes and other unique original autos.
Since it's inception, JC Taylor has been actively involved in the hobby you enjoy. Our decades of experience have yielded a solid base of knowledge from which to work. Not only have we helped protect the vehicles of thousands of passionate collectors, we've been intimately involved with both national and regional clubs, seeking to help preserve the interests of the people you appreciate and the marques you love. From museum collections to first-time owners, JC Taylor has worked hard to offer a product that meets your needs, letting you rest easy knowing your vehicle is provided for. And when the inevitable claim arises, you can relax with us.



Features and Benefits
Key advantages of a J.C. Taylor policy
Owners of collectible automobiles put time, effort and usually a lot of money into their cars. It's not just a standard vehicle and that's why specialty insurance is so important.


Highlights of the program include:


(Coverage may vary by state. All products and coverages may not be available in all areas.)





Agreed Value

Collectible autos have a stable market value and usually appreciate over time. To protect the value of the car, you and your customer will come up with an "agreed value" to represent the vehicle's current market value. In the event of a total loss, the insured will receive the full agreed amount less any applicable deductible. The agreed value should be changed on the policy if the market value of the car changes during the policy period. That way the policy is always up to date and the customer knows exactly how much they will receive if a claim should occur.

Low Premiums

A collectible vehicle insured under a specialty policy rather than a standard auto policy will save your customer hundreds of dollars and hassles. They'll be paying less and they'll reap the rewards of a program designed with the true enthusiast in mind. The Collectible Auto Program has more features specifically for collectible car owners.

Multi-Vehicle Discount

Your customer receives a discount when they want to insure more than one collectible car.

Expert Claims Service

Foremost's claims staff has the expertise and experience needed to settle claims quickly and fairly. And they strive for excellence in customer satisfaction. Your customers can count on our collectible auto experts who understand what makes these vehicles so special.

Towing and Roadside Assistance

We offer optional sign & drive towing and roadside assistance coverage.

Repair Shop of Choice

Because collectible auto owners put a lot of time into their cars, your customer will choose where they would prefer to take their car for repairs or parts. Most hobbyists will have a preferred repair shop that they trust or they will make the repairs themselves. Claims adjusters are also available to help locate parts and find experienced restorers and repair shops.

No Attendance Clause

When the owner wants to walk around at car shows and enjoy the other displays, their attendance at the insured vehicle is not required in the case of a loss to the vehicle.

Full Glass Coverage - When an optional deductible is selected, damage to safety glass (windows, windshields) is covered with no deductible.
Spare Parts Coverage - $750 coverage for spare parts for the collectible auto is included automatically with Agreed Value coverage for the vehicle.
Car Covers & Bras - $250 coverage for car covers and automobile bras used to protect the vehicle.
Antique and Classic Automobile Program Eligibility Requirements
Automobiles are primarily used as hobby vehicles. This includes exhibitions, club activities, parades or other functions of public interest. Occasional pleasure drives are acceptable.

The minimum vehicle value is $2,000.

Eligible vehicles for this program are at least 19 years old and in original condition. If the body of the vehicle has been modified and/or the engine altered to increase speed, the vehicle may be eligible for the Modified program.

All vehicle operators must be at least 25 years of age and should have a good driving record with no more than one moving violation and one at fault accident within the last three years.

All vehicles must be kept in a locked, fully enclosed garage when not in use.

The underwriting mileage guideline is 2,500 miles per year but additional mileage requests are considered.

How to file a claim
Your customer can report a claim directly to Claim Department 24 hours a day at 1-800-527-3907 or through the J.C. Taylor service center. J.C. Taylor is staffed with knowledgeable representatives who are happy to help you with any of your claims questions.
Call us TODAY to discuss your coverage needs!
(888) 432-5301